感染拡大防止への取り組み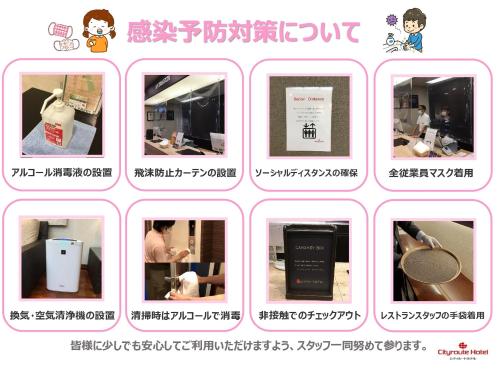 当ホテルでは、新型コロナウイルス感染予防対策として
お客様ならびに従業員の健康と安全を第一に考え、
お客様に安心してホテルをご利用していただけますよう努めております。
1 アルコール消毒液の設置
2 飛沫防止カーテンの設置
3 ソーシャルディスタンスの確保
4 全従業員マスク着用
5 換気・空気清浄機の設置
6 清掃時はアルコールで消毒
7 非接触でのチェックアウト
8 レストランスタッフの手袋着用
皆様のご理解とご協力を賜りますようお願い申し上げます。
Notice of suspension of free breakfast service due to spread of new coronavirus infection
Thank you for staying CityRoute Hotel.
Under the spread of new coronavirus infection and the government's emergency declaration, we have decided to suspend the "free breakfast service"
for the purpose of preventing the spread of infection and ensuring the safety and security of customers,
≪Breakfast suspension period≫
Monday, April 20th to Sunday, May 31st , 2020
*
Scheduled to restart from
June
1st
* The timing of resumption may change depending on the spread of infection, administrative judgment, social conditions, etc.
We apologize for the inconvenience, and we appreciate your understanding and cooperation.
About surgical masks distribution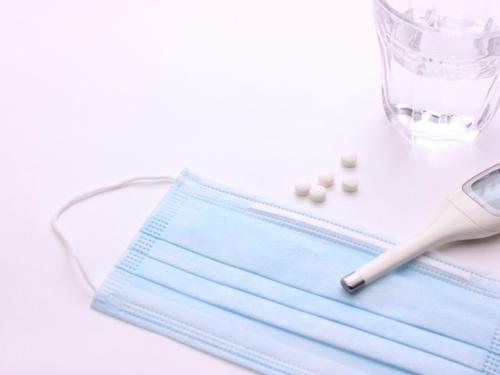 Thank you for always staying at City Route Hotel.
For the disease prevention, we prepare surgical masks at the front desk.
Please use one each.
Notice to business under a state of emergency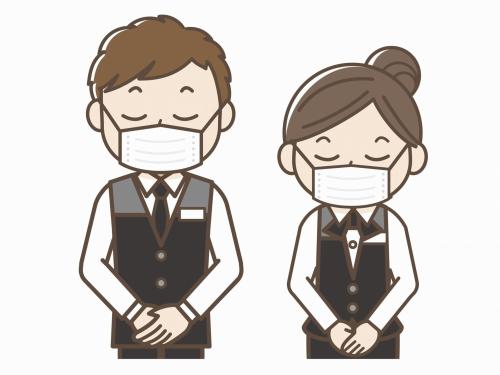 Thank you for always staying at City Route Hotel.
We are continuing our business normally with minute attention to disease prevention of guests and employees.
As for our hotel's Chinese restaurant "Taiko", we suspend it temporarily from
April 16,2020 to May 6th,2020 except for breakfast.
As for the following two directly managed hotels, we suspend them from April 15th,2020, Wed to May 31st, 2020, SUN.
Instead, we integrate businesses into City Route Hotel.
We also suspend directly managed restaurants and banquet at a banquet hall until May 31st,2020 SUN.
・hotel it.osaka shinmachi
・Reastaurant, it.oven
・Hotel Sun White
・Chinese Restaurant "Toukaen"
We apologize for your inconvenience and we are grateful that you understand the situation.
☆ ★ Award ★ ☆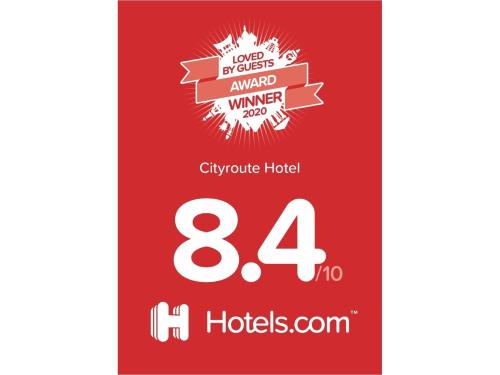 February 14, 2020
" Loved by Guests 2020 Hotels.com Award "
( Popular inn awards selected by customers )
We were awarded! !
We will continue to work hard to make a better hotel.
Thank you for your continued patronage.
■ Guide map around the hotel ■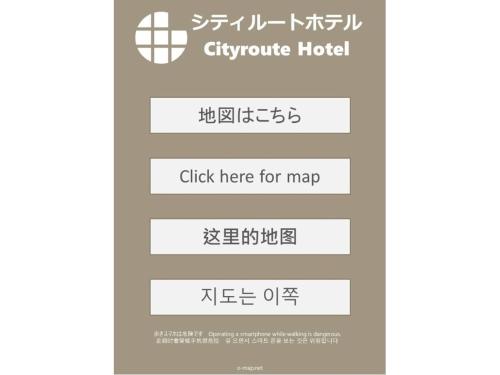 We have provided a map application for smartphones that is convenient for access to the hotel and sightseeing around!
Notation in 4 languages (Japanese, English, Chinese, Korean)
You can see it from the following URL link. Please use it.
Click here ↓